Product Features:
Scaffold in 29" wide and 6' long;
The main frame is fabricated by SHS 1.5"x1.5"x0.0787"t square tube;
The platform is made by steel frame + 0.5"t fire-proof LVL plywood board. The platform has trapdoor for people climb up inside the scaffold;
Use snap pins to safe lock the scaffold components, such as main frames, outriggers, casters.
The scaffold meets OHSA requirements, load capacity is up to 1000lbs.
The scaffold is easy to erecting and dismantling.
The scaffold is packed in carton box, convenient for transportation and storage.
Product Details:
Multi-functional Scaffolding / Baker Scaffold / Baby Tower
| | | | |
| --- | --- | --- | --- |
| Code | Description | Weight(kg) | Weight(lbs) |
| MFS.6 | 6' Multifunctional Scaffold | 64.81 | 142.91 |
| MFS.MF | Main Frame 29"Wx65"H | 11.31 | 24.94 |
| MFS.EF | Extension Frame 29"Wx39"H | 6.96 | 15.35 |
| MFS.GR | Guard Rail Set | 36.62 | 80.75 |
| MFS.WOTR | Wide Outrigger | 7.72 | 17.01 |
| MFS.NOTR | Narrow Outrigger | 2.69 | 5.93 |
| MFS.C5 | 5" Caster | 2.20 | 4.85 |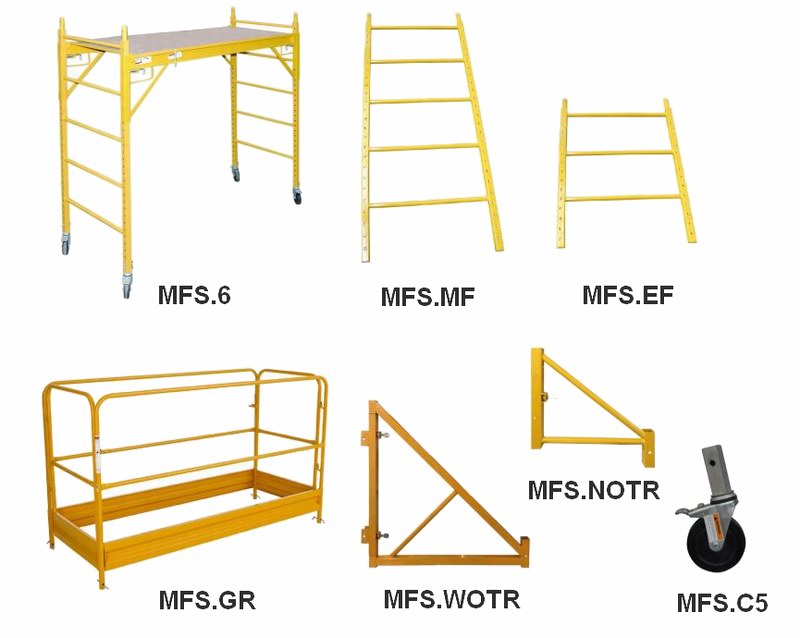 Multi-functional Scaffold Sales Package
| | | | |
| --- | --- | --- | --- |
| Code | Description | Weight(kg) | Weight(lbs) |
| MFS.PKG1 | 29"Wx72"Lx70"H Multi-functional Scaffold Package | 64.81 | 142.91 |
| MFS.PKG2 | 29"Wx72"Lx135"H Multi-functional Scaffold Package | 180.5 | 398.00 |
| MFS.PKG3 | 29"Wx72"Lx200"H Multi-functional Scaffold Package | 256.96 | 566.60 |