Advantages of Cuplock Scaffolding:
* Easy to erect and dismantle. Just a simple locking cup at each node point on the standards enables connection of the ends of up to four members in one locking action without nuts and bolts or wedges.
* Versatile. Best suitable for access or formwork support.
* Timely tested and Proven design with safety accessories. Cuplock System has a proven performance history on an extensive number of sites, meeting the requirements of the various statutory bodies.
* Quick fastening of horizontals. Only 4 horizontals can be fastened at one time with firm clamping action of top cup making the joint rigid.
* Quick/Fast/Solid erection and dismantling results in time and labour saving.
* Widely and Versatile use in construction, demolition or maintenance projects for any type of structure i.e. straight or curved.
* Lightweight but high loads carrying capacity.
* Low maintenance.
Cup Lock Scaffolding Standard / Vertical (Spigoted)
Product Details:
Code
Description
Material
Size
Weight (kg)
Weight (lbs)
CS.S.300
3.00M Standard
Ø48.3x3.25mm; Q235-Q355
3000mm (9'10")
15.47
34.11
CS.S.250
2.50M Standard
2500mm (8'2")
13.02
28.71
CS.S.200
2.00M Standard
2000mm (6'7")
10.58
23.33
CS.S.150
1.50M Standard
1500mm (4'11")
8.14
17.95
CS.S.100
1.00M Standard
1000mm (3'3")
5.69
12.55
CS.S.050
0.50M Standard
500mm (1'8")
3.25
7.17
CS.S.031
0.31M Standard
305mm (1')
2.55
5.62

Features:
Tube Dimension: O.D 48.3x3.25mm. Other tube thickness 4.0mm/3.5mm/3.0mm is also available by request.
Spigot Size: O.D 38x3x300mm or SHS30x30x3x300mm
Steel Tube Grade: Q235-Q355
Cup Distance: 500mm
Surface Finishing: Hot dip Galvanized; Powder Coated, Painted
Quality Standard: EN12810 / BS1139
Welding Process: CO2/Mixture gas Shielding Welding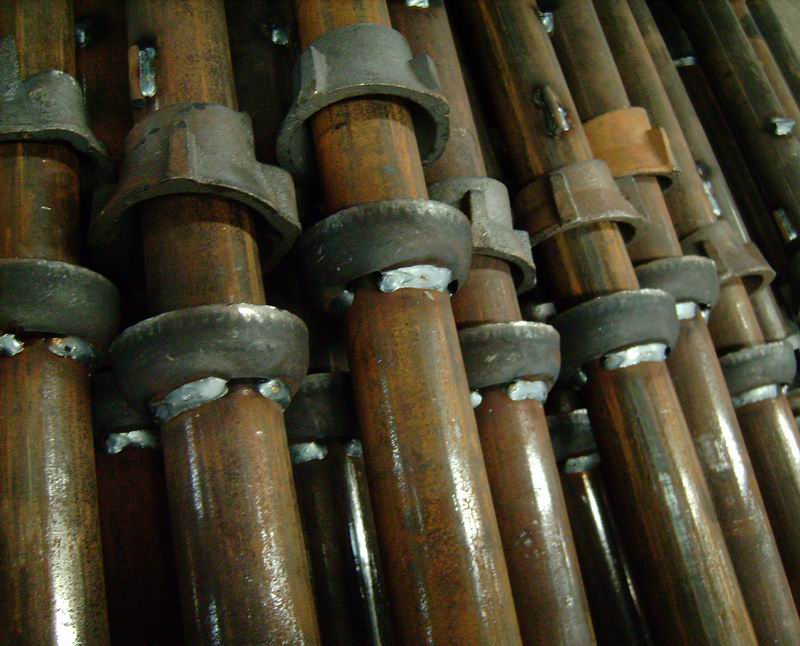 Packing and Loading
: Steel Racks